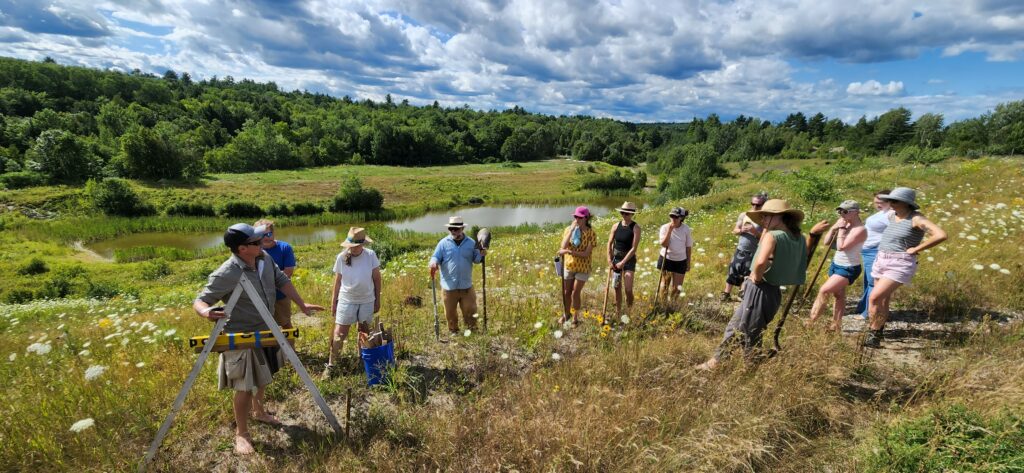 Summer 2024 Dates: June 1-2, June 22-23, July 12-14, August 2-4, August 23-25
---
The Permaculture Certificate Course (also known as a PDC) is offered all over the world in various formats and with some variations to suit the local conditions and the teaching team's specialties. We have tailored our PDC to the local conditions of our bioregion in the US Northeast and Eastern Canada. Because we have extensive ongoing design experience with farms, residences and community projects, the teaching comes from real-life examples of permaculture in our region.
---
Jesse and Kate are a dynamic duo who balance the class with tons of learning, support, hands-on experience, time to reflect/absorb, and have fun all the while. If you're on the fence about this course – just take the leap, you'll be glad you did.

Karen Ellis, PDC 2022
---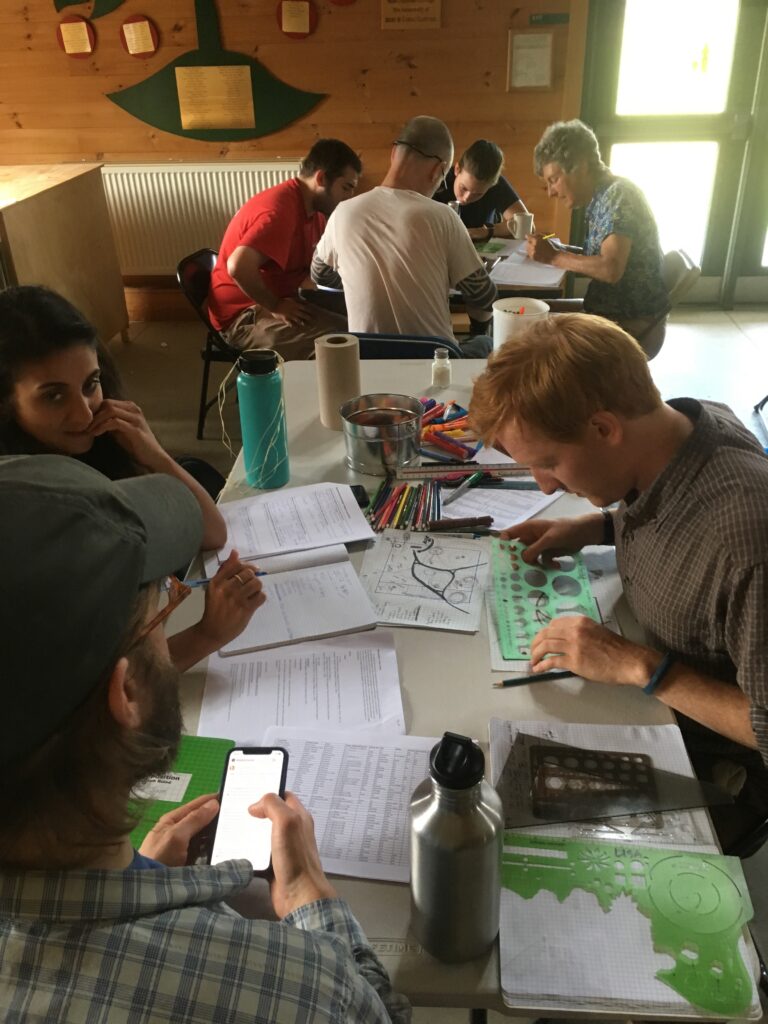 Location and Dates

Summer 2024 dates have been announced! June 1-2, June 22-23, July 12-14, August 2-4, August 23-25.

Note that these are a mix of 2-day and 3-day weekends.

We have spent many years teaching the PDC at MOFGA's Common Ground Education Center in Unity, Maine. MOFGA graciously co-sponsors this program in support of the value it brings to their agricultural and gardening membership across the state. The venue is especially good for those of you who want to "get away" to a peaceful, rural setting and camp under the stars while learning permaculture with your cohort. Attendees to this location often refer to their PDC as "going to permaculture camp!" Camping is not only available, it is free and encouraged. We often have festivities in the evenings, and our class becomes a small community for the time we are together.
Principles and Pedagogy

We find that providing a variety of learning environments and formats is the best way to create the container within which participants have the best chance of meeting their own learning goals.
We see ourselves as not so much "teachers" as designers of educational events and facilitators of learning.
While we, as facilitators, have skills and knowledge to share, we also deeply honor and invite the wisdom of our PDC participants into our course as we all create a learning community together.
While some amount of lecture or slideshow is hard to avoid, we do our best to change things up and keep things moving! Too much time in a chair does not lead to the best learning outcomes! We take dance breaks every 60-90 minutes.
We will host an online classroom to share resources, review homework and encourage peer-to-peer support in between weekend classes.
If one of the presumed goals of doing permaculture is to create a more positive version of the future (food, energy, buildings, water, economy, health, etc.), then HOW we teach and learn permaculture is just as important as WHAT we teach and learn.
Facilitators and designers of permaculture educational events – like PDCs – have a responsibility to continue their own learning and evolution, professional development and ethical conduct in service to the communities they serve.
Permaculture as a movement or community has, historically in the US, been less relevant and/or accessible to people of color, first nations people or people who identify as LGBTQ. We are committed to a practice self-learning and of undoing those patterns. We are committed to acknowledging the indigenous origins of many techniques associated with permaculture, and working to make sure that permaculture does not become another tool in the toolbox of settler/colonizer culture, as best we can, given our own limitations and imperfections.

Our facilitation team uses many practices from the Art of Hosting suite of activities for convening our educational events.
Course Topics

The following topics are included in our PDC via a combination of educational formats (field trips, guest professionals, reading, video, lecture, practicum, individual study, group exercises, etc.).

Important – This course includes hands-on DESIGN practice as well as hands-on SKILLS practice (i.e. implementation techniques) as part of the learning approach. This course takes the "design" part of "permaculture design course" very seriously and will use a robust and flexible design process as a touchstone theme throughout the curriculum.

Permaculture in General

Context, Big Picture
History & Origins of permaculture
Indigenous, traditional origins
Ethics & Principles
Pattern Literacy
Permaculture toolkits & network resources

Topical Categories

Agroecology and Ecological systems in general
Climatic factors (sun, wind, etc.)
Hydrological cycle and water systems
Soils, soil food web, soil-building
Tree Ecology / Woodland Ecology
Regenerative Agriculture
Agroforestry practices
Landform/Topography & Earthworks
Plant knowledge and functions
Polyculture design
Green & natural building
Energy Systems
Waste systems (solid, human, water, etc)
Social & Financial Permaculture
Animals in Permaculture
Humid Tropics / Dryland Applications

Observational / Data Collection Skills

Scatter vision, fox walk, directional hearing or similar
Sit spot and/or journaling
Site Survey Techniques
Reading the Forested Landscape
Historical/Cultural/Mythological context
Reading elevation changes and contour lines
Finding keypoints and keylines
Reading weather pulse events (i.e. rain, snow)
Reading flow and movement (wildlife, human desire lines, traffic patterns)
Zones of accumulation, zones of use patterns
Reading viewsheds & other sector influences
Reading current zones of use
Client listening / consultation skills
Site documentation skills & conventions

Design Techniques and Skills

Permaculture Design Process(es)
Design Questionnaire or Interview
Goals articulation
Reading architectural drawings
Zone & Sector Analysis
Input / Output Analysis
Asset / Challenge Analysis
Scale of Permanence data layers
Use Case Analysis
Design for resilience, design for change (i.e. climate adaptation)

Design "Products" Creation

Basemap creation (different techniques)
Scale of Permanence data collection
Summary Analysis & Assessment
Draft Concept Drawings
Measuring and drawing to scale
Triangulation & line extensions with offsets
Understanding plan and section drawings
Basic drawing tools
Basic drawing conventions, symbology
Basic report, design narrative and implementation plan
Presentation of ideas

Hands-on Applied Permaculture Exercises

A-frame (and bunyip) levels
Marking contour lines
Cutting swales
Appropriate tool choice and use (i.e. scythe, broadfork)
Sheet mulching
Hugel construction
Planting techniques
Finding keypoints & keylines
Measuring and laying out planting plans

Some of the above may be substituted with some of the following: Pruning, mushroom inoculation, compost bins/worm bins, polyculture planting, plant propagation, seed saving, food preservation, cob projects, foraging, pond construction, herb spiral, espalier install, arbor construction, chicken tractor/coop, rain barrel construction, etc.
Time Commitment

The Permaculture Design Course (PDC) takes place over a total of 13 days. When you enroll, please mark those days on your calendar right away.

Plan on a Time Commitment of:

2-3 hours of pre-work prior to the start of course (articles, videos)
13 Days (spread out over 5 weekends)
8-9 hours per course day (9am to 5:30 or 9am to 7:30 when we have evening programs)
3-4 hours of "homework" between course weekends (reading, videos, etc.)
Design Projects

This is a Permaculture Design Course so it is important that you get a chance to learn and practice design skills and a design process. Our team provides professional design services and has honed our own robust design process which serves as the basis for the PDC design modules.

Learning Design Skills During the PDC

Small Design Exercises – We will be dipping our toes into the water of design by breaking down the design process and skills into smaller individual and group exercises during the first few weekends of your course. This will allow you to accrue skills and confidence gradually over the duration of the course.

Follow-Along-At-Home Design Skills

Every homework assignment will include practice design exercises for you to apply to your own home, homestead or any other property that is easily accessible to you. Again, this will allow you to practice — and actually perform — a design process for a property of interest to you. Students who commit to these assignments throughout the duration of the course end up with the lion's share of a complete permaculture design completed for their own subject property by the time the course ends! Assignments are brought into class for optional feedback and coaching from course facilitators (who are experienced, professional designers).

Final Weekend – Full Practice Design Project

For our final 3-day weekend, we have a couple options for how to structure the creation of a final design project. Students can work on completing their own designs for their own home project, or you can work with others on a team creating a full design for a real-live client in the community where we are based. Working on your own or with a team, you will create a full-sized plan view drawing of the design site, several detail drawings, and complete written report narrating your findings, design ideas and implementation plan for the "client." It's hard to imagine you will be able to do this if you've never designed anything before, but time and time again our PDC classes surprise and amaze us with the quality of their design ideas! The final weekend is explicitly structured to have a supportive and mentoring environment, in the spirit of practice and experimentation, and based on the belief that all participants have something to offer and share.

PDC "Homework"

For lack of a better word, you will have a chance to complete some "homework" (Yay!) between class weekends. We encourage all course participants to do the homework assignments in order to deepen their understanding of the material we have covered – and will be covering – in class.

One of the benefits of a weekend-format PDC is that you get the opportunity to let your class learning "sink in," notice the progression of the seasons, and dive a bit deeper with the readings, exercises and videos.

Each homework assignment, sent by email to the class and hosted on our online classroom, will consist of four parts (as outlined below) and can probably be completed in a total of 3-4 hours.

Practice Design Exercises to do at home or on a property of the student's choice. These exercises are designed as "bite-size" parts of the larger design process that we teach and, if completed, will result in a substantial amount of design work being done for the student's desired home site. Course facilitators are available to review each student's home design exercises to help keep things on track. These activities might include things like goal-setting, base mapping, site observation practices, site surveying and measuring, research, draft design sketches and more.
Readings from the two recommended course textbooks or articles provided in PDF form.
Specific videos (chosen for quality or relevance to class topics) available for free viewing online. The videos we watch together during class are generally ones NOT available online.
"Optional Extras" are suggested for those who have time to go down the rabbit hole and learn more! We suggest videos and reading to enhance your learning even more.
Food & Hospitality

Hospitality and sharing food together is a cornerstone of the PDC. Whether you are an omnivore, vegetarian, vegan…your needs will be met. If you are gluten-free, dairy-free or have other restrictions, we can support you as well. When you enroll, you will be asked to let us know where you stand on your food needs.

Coffee/Tea Breaks

We always provide tea and coffee as well as locally-produced and/or organic snacks throughout class weekends.

Suppers

For our longer class days (when there is an evening program), we provide a delicious, organic and locally-sourced meal for supper, either prepared by one of our own facilitators or by a locally-owned cook/catering company.

Lunches

In order to keep the cost of the course affordable, one of our strategies has been to "crowdsource" lunches, inviting students to bring a hearty dish to share with the group, labeling ingredients to support those with dietary restrictions/preferences in making appropriate food choices. This has worked out amazingly well in the past, with a variety of delicious and healthy foods showing up in abundance! We have access to MOFGA's large commercial kitchen for meal preparation.

(We realize that potluck food is not as easy for everyone as it is for others; this is a no-pressure situation! If you run out of time or don't feel confident in your cooking or food prep skills…. a salad, a jug of cider, bread and cheese or even a bowl of hard boiled eggs are always appreciated!).

We may need to come up with contingency plans around shared meals if a surge occurs during the course. We will contemplate that as a group should the need arise.

Accommodations

Camping is widely available on site and encouraged. There are no indoor showers at MOFGA, but there is a swimming hole within walking distance and we bring solar bag showers for participants to use. If camping isn't accessible or not your thing, there are B&B accommodations available locally.
Accessibility

Our PDC is taught in a facility that is compliant with the Americans with Disabilities Act (ADA) and accessible to people using wheelchairs and most other mobility devices.

Hands-on activities such as design exercises and applied permaculture techniques (earthworks, working with plants, etc.) can be scaled to suit various physical abilities. No one is required to exert themselves physically in any way that is not safe or comfortable for their bodies. It is totally acceptable for a course participant to be an observer rather than a "doer" for any activities that do not feel easeful.

Contact us to discuss anything regarding physical challenges, preferences or restrictions.
Cost and Sliding Scale

Given the true cost of running a high-quality educational event, we understand the tuition can seem significant – and even a stretch. We offer a Sliding Scale Tiered Tuition based on your household income.

TIER #1 PDC Tuition: $1,150 Early / $1,250 Regular – For lower income households who are un/underemployed or have other financial challenges.

TIER #2 PDC Tuition: $1,450 Early / $1,550 Regular – For middle income households; representing the true cost of tuition.

TIER #3 PDC Tuition: $1,775 Early / $1,875 Regular – For households that are experiencing abundance in the form of financial resources.

The "Early" tuition prices quoted here are based on payment in full by March 31st.

Household Income Chart to Determine Your Tier

If cost is a barrier, we have one Work-Study position available for each class. Please contact us to learn more about this option.
Solidarity Pricing

In recognition of historical injustices that have resulted in differences in wealth accumulation over several generations, we are committed to creating additional ways to afford our educational programs for audiences who have experienced some of these dynamics. While this isn't the whole answer, it is one of the steps that we are able to take at this time.

Currently, our overall PDC budget includes some Solidarity Pricing spots for people who qualify for TIER #1 pricing on our sliding scale, AND are at least one of the following:

People of Color
First Nations / Indigenous
Queer / Trans

If these conditions are true for you and you would like this option, you can let us know during registration and we will come up with a plan that works within your budget. Working within our own financial constraints, this offer is limited.
Attendance Policy

Each Permaculture Design Certification is its own unique educational event with its individual set of student, resource, and content flow dynamics. The syllabus can shift a bit from course to course, and course content is never repeated in exactly the same way. The energy, space and resources allotted are unique to each class. This unique quality is largely in response to the logistics involved in organizing class spaces, field trips, guest speakers, weather variables, group dynamics etc. While there is some traditional "lecture" and slideshow content, more than half of the in-class time is made up of group and participatory activities.

Certificates are not automatically granted when course attendees pay their tuition. Graduates must demonstrate competencies through the final design practice weekend (last 3 days of the course).

A make-up assignment for a missed day can be arranged with the instructor if it is completely unavoidable due to sickness or other schedule conflict. However, no more than 15% of class hours shall be missed. For example, for a 13-day course, no more than 2 days can be missed if you wish to receive a certificate. Attendance is required for the entirety of the final design weekend in order to receive a PDC certificate unless other arrangements are made before the course begins.

If course participants have a pre-existing engagement (such as a wedding or graduation) on any course dates, arrangements can be made if we know about it at least 14 days in advance of the start of the course. Custom homework assignments can be created to make up missed class time, and will be designed on an individual basis, as long as the absence does not exceed 2 class days.
Refund Policy

Life Happens.

Sometimes circumstances arise the make it impossible for you to take the course for which you've already paid! Here are details about how it works with us:

$100 of your deposit is non-refundable regardless of when you cancel your registration.

Canceling Your Registration:

At Least 60 Days Prior to the Course = Full Refund (apart from the $100 non-refundable portion of your deposit)
At Least 30 Days Prior to the Course = 50% Refund (apart from the $100 non-refundable portion of your deposit)
At Least 14 Days Prior to the Course = 30% Refund (apart from the $100 non-refundable portion of your deposit)
Less than 7 Days Prior to the Course / Or Withdraw After Course Begins = No Refunds Are Available
Inclusion of Kids

We understand that sometimes you might need to bring the littles with you because you can't find childcare coverage. We have to do it sometimes too. While we don't have the capacity to offer childcare per se, we do like the occasional inclusion of kids and will make every effort to accommodate your needs. That might mean that while one facilitator is running a session, the other might watch kids. It might mean letting the kids roam free. It depends on the session and how we need to allocate our attention. Our responsibility is foremost to craft a quality educational experience for all the class participants, including parents, and the best we can do is ask for everyone's flexibility, adaptability and patience.
Kate and Jesse's leadership, design skill, deep and broad command of techniques and facts and plants, and ability to teach that material to a diverse and hungry set of students, helped me to grow my design skills significantly. Their approach is ethically grounded and confident, but humble and curious–really a superb combination.

Stokes Young, PDC 2022